Woodland / Paw Creek Reading Program
WOODLAND & PAW CREEK READING PROGRAM
Every Wednesday afternoon, twelve eager second graders from Paw Creek Elementary School in western Mecklenburg County arrive at Paw Creek Church. Volunteers from the Paw Creek and Woodland Churches meet their bus, offer a snack and some recreation in the gym, and then everyone gets down to business in a bright and cheerful classroom. The purpose of the program is to instill the love of reading for these children before they get worn down by the pressures of testing and grading – to make love of reading a skill for life.
During the course of the afternoon adults read to them, they read to the adults, and they read to each other. They choose books from well-stocked book shelves and take books with them to read at home. The room is full of smiles and laughter. The Reading Program began on December 1, 2021 (after a year-long pandemic delay). The children are thrilled, the parents are thrilled, and school officials are already making plans to expand the program next year. The Woodland and Paw Creek Churches are grateful to the Presbytery of Charlotte for a Shared Mission Grant that supports a stipend for Program Facilitator Sarah Taylor, who is a retired reading teacher. We look forward to sharing more news as our program expands.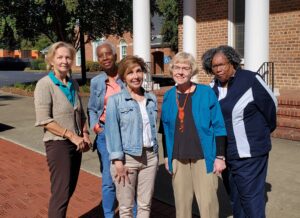 Photo from left to right: Celia Gray Paw Creek, Madge Hopkins Woodland, Sarah Taylor Facilitator Barbara Ullem Paw Creek and Robin Fox Woodland.