Music Ministry
Paw Creek Presbyterian Church's Music Ministry provides opportunities for worship, service and education while glorifying God through music. Participants experience the joy of fellowship and the satisfaction of knowing that they offer a meaningful service to God and His church. Whether you consider yourself a musical novice, an amateur, or a professional, you can express and develop your talents here.
Chancel Choir
The men and women of the Chancel Choir assist in worship at the 11:00 a.m. Worship Service each Sunday. This group also performs two major cantatas each year: one for Easter Sunday Worship Service and one for Sunday Worship Service during Advent. In addition, the Chancel Choir enjoys singing for special events and services including outreach programs as well as revivals, concerts, and musicals at neighboring churches.
The Chancel Choir has an eclectic repertoire that includes traditional favorites, Contemporary Christian, Praise & Worship, Gospel, and new classics.
The Choir has rehearsals on Thursday nights from 6:30-8:00 pm
and welcomes new members with open arms.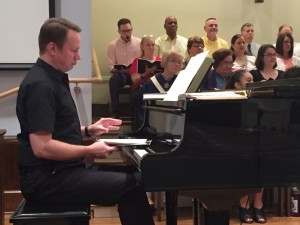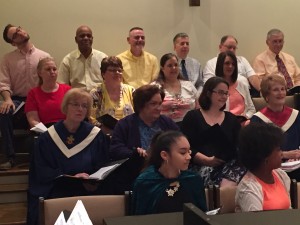 Paw Creek's New Director of Music, Andrew Cumbow!
Greetings Paw Creek!
My name is Andrew Cumbow, but please call me Andy. I am excited to be joining your church family as your next Director of Music!
A little bit about me: I am originally from the beautiful mountains of Bristol Tennessee. I fell in love with choral music attending my first All-State choral festival my sophomore year of high school, and soon set my sights on becoming a choral conductor. I attended King College, a PCUSA Presbyterian liberal arts college in my hometown, where the director of choral activities took me under his wing. By the time I graduated King with my double major in choral music education and vocal performance, I had conducted 15 pieces of music with four different choirs, one musical, and one small choral major work as my senior gift.
While at King, I also joined the music department at First Presbyterian Church as a staff singer, and was routinely treated with conducting opportunities, and trips to the Montreat Worship and Music conference. My church membership is held there to this day. My professional career includes 12+ years of conducting and teaching music at different churches, schools, and receiving my master's degree in choral conducting with emphasis in church music from Mercer University in Macon, Georgia, where I focused on music literacy, vocal technique, choral methods, and the theology of worship and music. I moved to Charlotte in 2019, and am actively building the choral music program at Queen City STEM school here in Charlotte.
In my free time, I spend time with my friends, play table-top games, work on my home cooking skills, and compose choral music, which has seen modest success in various schools and churches over the past ten years.I am so excited to be working with Elliot, Mark, and the fabulous choir here at PCPC. I'm looking forward to getting to know you, and developing worship services which will enrich and soothe the soul as we slowly leave the trying times of the past two years more and more behind us.
Thank you for having me!
~Andy