Children and Youth Ministry
We have many activities for the children at Paw Creek and visitors are welcomed with open arms.
You are encouraged to visit and discover which activity is right for you.
CCC Is off for the summer. We will be starting back in the Fall on September 20, 2023
Children Connecting with Christ (CCC) had a successful first year back in-person since the Pandemic. During the 2022-2023 school year children and youth from the Paw Creek community met at our church on Wednesday evenings for recreation and supper followed by Bible lessons for two groups, children and youth. We were blessed to have Joseph Jumper, a ministerial intern from Myers Park, with us as our CCC leader for this year. Under Joseph's enthusiastic leadership our numbers grew to a total of 23 children and youth! On Sunday, May 21, we celebrated the year with a Field Trip to the Carolina Raptor Center for all CCC children and youth and their chaperones!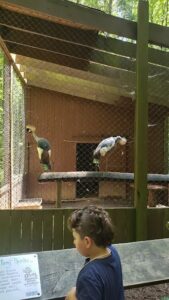 We have a private Facebook site.
PCPC CCC – Children Connecting With Christ