Paw Creek is open for Worship, Prayer and Study
Our Church Session has adopted the following motion, effective Sunday, August 8:
"The Session requests and encourages all those using church facilities to wear masks during indoor gatherings, as a gesture of protection, care and concern for one another. We hope and pray that masking will allow us to continue our current level of programming without the need for any further limitations to our activities, and appreciate the support and understanding of the entire church community."
Please join us for:
Prayer Gathering Sundays at 9:30 am in the Sanctuary
Sunday School Classes from 9:45-10:30 am
Worship in the Sanctuary at 11:00 am
Live Streaming Worship on-line at 11:00 am and available throughout the week
Bible Study Wednesday at 10:00 am and 5:30 pm (Zoom available @5:30 pm)
To all who visit Paw Creek Presbyterian Church through this website:
May God's grace and love be with you this day, and with all whom you hold dear.
This time of illness, distancing and fear is difficult for all of us. Sometimes we may not know where to turn or even what to ask for. In this situation, I am grateful that you are turning to the Church of Jesus. For centuries followers of Jesus have joined together to claim his promises, even as we have reached out to share them with his world. That has been the mission of Paw Creek Church for over 210 years – since 1809; that remains our task today.
There is much information about our church and its people on this website, but for now, and during this time when our regular schedule is being re-imagined almost every day, everything you need is right here on this homepage.
And of course we are staying in touch, sharing prayers, giving encouragement and doing all the important things that are part of being a church family. Have a look at what you find and if you want to learn more, please let me know (deh46@columbia.edu)
Elliott Hipp
Newsletter – updated each 2nd and 4th Thursday
Troop 70 BBQ
The Troop will have a BBQ sale on Saturday, November 13th from Noon-2pm. Drive Thru & Pick Up. Only selling by the pound ($9.00) They need to have it pre-ordered no later than Sunday, Nov.7th. Please contact Joy Tyler @ 704-399-8040 if you would like to purchase.
Welcome Nia Williams Reyes!
Paw Creek is blessed to continue its tradition of wonderful music ministry with the addition of Nia as our Pianist/Instrumentalist. Nia will start November 10th. The choir has already experienced a bit of her piano proficiency and contagious joy. She will be also sharing with all of us her talents on the harp, organ, and harpsichord.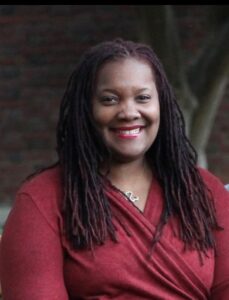 Nia is a native of northwest Charlotte and is the daughter of parents who also enjoy musical livelihoods. She is a high school graduate of Northwest School of the Arts; has a Bachelor of Music from Salem College, a Masters of Music from Houghton College (NY), and is a Certified Professional Artist in Collaborative Piano from UNC School of the Arts. She teaches Music Appreciation at CPCC and is an Accompanist in demand for the Charlotte Youth Choir, Opera Carolina, and various other ensembles. Beyond music, Nia and her husband, Kevin (Postal Service & National Guard), and their 16-mth old daughter are hopefully closing on a new home nearby soon…with space enough for her to continue to dabble as a farmer of vegetables and chickens.
Nia brings Paw Creek loads of talent, a refreshing energy, humor, and an engaging personality. Please extend to Nia and her family a warm welcome as they join us in Christian fellowship.
Reading Program
Woodland and Paw Creek Presbyterian Churches have joined together and developed an after school program to help second grade students at Paw Creek Elementary improve their reading skills and develop a love of reading. We have completed an important step toward our mission with the hiring of our Reading Program Facilitator Sarah Taylor, who joined our Reading Program Committee on October 20, 2021.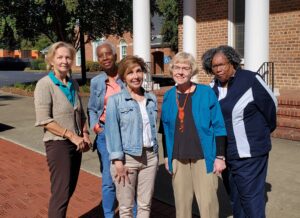 Photo from left to right: Celia Gray Paw Creek, Madge Hopkins Woodland, Sarah Taylor Facilitator Barbara Ullem Paw Creek and Robin Fox Woodland.
Online Giving is Available
Paw Creek has now implemented Online Giving for the convenience of church members and our friends who worship with us. Please click the following link. Once you click on this link you will be directed to set up an account. You can make you donation as a one time gift, or you can set up recurring transactions. You may use your bank account information to create this payment, or you may use your debit or credit card. (If you use your debit or credit card, you will also be given the option to add the transaction fee to your payment if you choose to do so)
Click here to be taken to our Online Giving Page
For those who like to use mobile apps, you can download the app: Give+
and search for Paw Creek Presbyterian Church. Once you have created an account, it will save Paw Creek as your default Church.